Very Good Recipes of Curry from Our Cherished World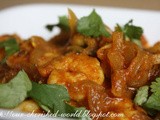 Simple Prawn / Shrimp curry
By Our Cherished World
Subscribe
02/06/12 21:01
Its paying off... Our perseverance to make V sit on the table and eat by himself is finally working. If he's full, he's full – that's something we have learnt. We don't force him to eat if he says he's full. All of us are getting there. I am soooooooo happy....
Add to my recipe book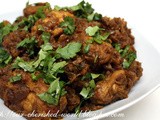 Chicken Pepper Curry for Blog Hop Wednesdays
By Our Cherished World
Subscribe
01/11/12 07:49
For my first Blog Hop Wednesday, i was paired with Vidya of Kurry Leaves. Her blog was a difficult one - so many yummy recipes with yummier photos. After much deliberation, I chose her Chicken Pepper Fry. It was as good as her photos. The best bit was,...
Add to my recipe book