Very Good Recipes of Garlic from Our Cherished World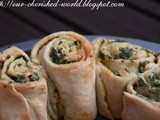 Garlic-Coriander Pull Apart Rolls for Blog Hop
By Our Cherished World
06/13/12 19:49
Well... I have to admit. I almost missed this Blog Hop due to various reasons. I really liked Renuka's blog - with whom I am paired for this month. I just didn't have the time to do anything. Then yesterday (Tuesday), I got back from work and decided to...
Add to my recipe book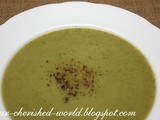 Zucchini / Courgette Garlic Soup
By Our Cherished World
01/19/12 19:47
We are so happy that we are able to make V sit at the table and eat with us. He's obviously slow – but its worth it. Its so much fun. He still has his moments when we send him to the naughty corner though. The best bit is that now we give him the benefit...
Add to my recipe book