Very Good Recipes of Rôti from Our Cherished World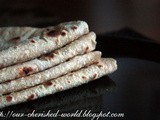 Sweet Corn Roti
By Our Cherished World
03/08/12 21:53
If you have noticed in my blog, I make rotis with pureed vegetables to make V eat that extra vegetable as he never used to eat any curry with rotis. He started to eat it with dal recently. But I continue to make rotis with vegetables as it doesn't harm...
Add to my recipe book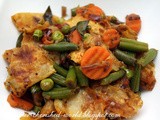 Vegetable Kothu Paratha / Kothu Roti
By Our Cherished World
12/23/11 17:37
This is the famous road side food in Chennai. I've never eaten it in Chennai, but when my cousins came to visit me last year, they made this for us and it was very tasty and different (for us). They made it with Chicken and Egg. I wanted to try making it...
Add to my recipe book