Very Good Recipes of Mozzarella from Penna e forchetta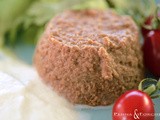 Budino di melanzane con spuma di mozzarella - Eggplant pudding with mozzarella cheese mousse
By Penna e forchetta
Subscribe
05/21/12 13:19
Budino di melanzane con spuma di mozzarella. Partenza dal mediterraneo. Ecco ci siamo. Per questo mese all'MTC Challange si parla di budini, ma non budini qualsiasi, no no. Budini salati, di verdure. Volevo fare un escursus storico della cucina italiana...
Add to my recipe book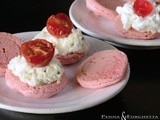 Macarons salés pomodori e mozzarella - Macarons salés tomatoes and mozarella
By Penna e forchetta
Subscribe
04/30/12 12:04
Macarons salés pomodori e mozzarella: un finger food diverso dal solito Partecipo sempre ai contesti di Good Food. Sono stimolanti e spesso propongono sfide che mettono in gioco la creatività. Insomma mi consentono di "sfidarmi". Inoltre in questo confronto...
Add to my recipe book