Very Good Recipes of Tomatoes from Penna e forchetta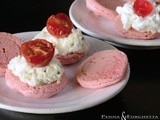 Macarons salés pomodori e mozzarella - Macarons salés tomatoes and mozarella
By Penna e forchetta
04/30/12 12:04
Macarons salés pomodori e mozzarella: un finger food diverso dal solito Partecipo sempre ai contesti di Good Food. Sono stimolanti e spesso propongono sfide che mettono in gioco la creatività. Insomma mi consentono di "sfidarmi". Inoltre in questo confronto...
Add to my recipe book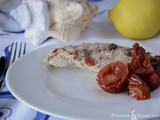 Pesce, pomodori e capperi - Bonito, tomatoes and capers
By Penna e forchetta
04/02/12 11:07
Palamita con pomodori e capperi. Il mio primo post di aprile è dedicato al pesce Ed ecco il mio pesce d'aprile! Vero però. Non ho potuto resistere alla tentazione di iniziare questo mese con un post sul pesce. E quindi eccolo qui. E il pesce in questione...
Add to my recipe book