Very Good Recipes of Cheese from Pistachio and Rose
Tomato and Mascarpone soup with Cheese and Tomato Toasties
By Pistachio and Rose
Subscribe
11/15/12 19:23
Lord God it is bloody freezing down here in Brighton and I can't seem to stop eating tomato soup with cheese on toast at the moment. It is such a gorgeous combination though isn't it...cheese and tomato. Especially when the cheese is all melted and dipped...
Add to my recipe book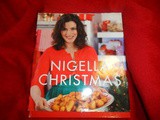 Random Recipies #6 Nigella Lawson Macaroni Cheese De Luxe with Honey Roast Gammon
By Pistachio and Rose
Subscribe
07/18/11 00:13
I even put the book on a festive red blanket! This will be the first time I participate in Dom's Random Recipe Challenge and I'm really happy to be taking part and it's about bloody time I did so here it is. I have a huge collection of cookbooks and I love...
Add to my recipe book