Very Good Recipes of Mushroom from Pistachio and Rose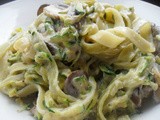 Herby Courgette and Mushroom Pasta
By Pistachio and Rose
02/22/12 14:43
This is beyond simple but wanted to share it as it's so delicious and perfect for a mid-week simple supper or a quick lunch. When I had my first ever flatshare one of the guys I lived with made me courgette pasta where he just grated lot's of courgette,...
Add to my recipe book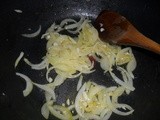 Steak, Dauphinoise Potatoes and Tomato and Mushroom Sauce
By Pistachio and Rose
09/08/11 00:21
Me and the BF always have steak with home-made thick cut chips, mushrooms, tomatoes and my rather lovely peppercorn sauce and the reason is because that is my BF's favourite meal and he finds it rather distressing if I suggest other ways to have our steak....Well...
Add to my recipe book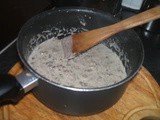 Simple Creamy Mushroom Soup
By Pistachio and Rose
05/31/11 16:36
It's spring but it's also April and that means there are showers, lot's of them and it put me in the mood for soup. Whenever I make soup I tend to see what veggies need using up in my fridge and today it was huge field mushrooms that had begun to turn slightly...
Add to my recipe book