Very Good Recipes of Cream from Princess Misia Recipes
Cream & Crumble Peach Bars
By Princess Misia Recipes
08/22/11 20:29
Peaches are falling off the trees and I just cannot stay away from them! They are great in cobblers, cakes, parfaits and even from the grill but my favorite this summer are peach bars! I couldn't decide whether to make cream or crumble, so I decided to...
Add to my recipe book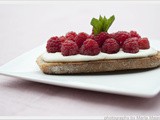 Toast with Cream Cheese & Berries
By Princess Misia Recipes
07/12/11 22:52
Summer offers so many different berries and I am committed to taking a full advantage of it That's why I'm trying to use them whenever and wherever I can. These toasts with cream cheese and berries will make a delicious breakfast for a summer morning or...
Add to my recipe book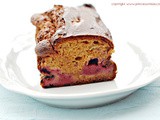 Raspberry Sour Cream Cake
By Princess Misia Recipes
05/25/11 11:43
I found myself having a lot of sour cream over from the last taco night and I thought I'd use it to make something for breakfast. As much as I love pancakes, I didn't want to make sour cream pancakes again so I decided to see if sour cream would work in...
Add to my recipe book