Very Good Recipes of Strawberry from Princess Misia Recipes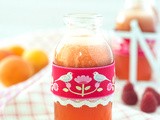 Juicy july: Raspberry, strawberry, apricot and watermelon
By Princess Misia Recipes
07/22/12 20:00
Last week of July and we finally have some summer! To celebrate it, we juiced with all the best summer has to offer: raspberries, strawberries, apricots and watermelon! Tip: you can use this juice to make popsicles! Just put it in cups, add an ice cream...
Add to my recipe book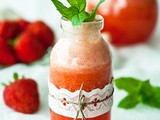 Juicy july: Strawberry, Pineapple & Mint Juice
By Princess Misia Recipes
07/09/12 11:51
Here it is – the second recipe in the Juicy July series! This pineapple, strawberry and mint juice tastes like summer in a bottle! And with the grey and rainy weather we are having here recently, I know you need summer in any form! I do! Ingredients (makes...
Add to my recipe book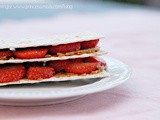 Peanut Butter & Strawberry
By Princess Misia Recipes
05/07/11 14:10
I just bought some whole wheat matzo crackers and I wanted to have them with some peanut butter. When I was preparing them, I started to nibble on some fresh strawberries and I just got this idea to make a peanut butter & strawberry matzo tower haha I know...
Add to my recipe book