Very Good Recipes of Cabbage from Recipe with pictures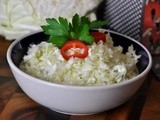 Hungarian Cabbage Salad
By Recipe with pictures
01/07/12 22:32
My mama used to make this salad for us a lot. It goes well with any meat and potato dish. I love it and it's a very simple and cheap salad. This makes 2 servings. Ingredients: 1 medium cabbage, shredded 1 teaspoon salt 1 cup water 1 tablespoon sugar 2 tablespoon...
Add to my recipe book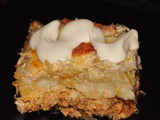 Layered Cabbage - Kolozsvari Kaposzta - Varza a la Cluj
By Recipe with pictures
02/01/11 04:43
Ingredients: 1 pound ground pork 1 cup water 1 pound sauerkraut pinch of dry thyme 1 cup of cooked rice smoked sausage or ham 1 cup sour cream 1 large onion, chopped 1½ tablespoon sweet Hungarian paprika 2 tablespoons oil salt black pepper Directions: Cook...
Add to my recipe book