Very Good Recipes of Feta from Recipe with pictures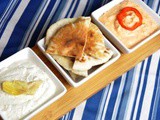 Feta and Artichoke Dip & Feta and Roasted Red Pepper Dip
By Recipe with pictures
09/01/11 17:58
I had 1 lb of feta cheese and I just didn't know what to do with it. Couple of month ago I ordered a nice feta and roasted red pepper appetizer in a greek restaurant and I loved it, it's called Htipiti. I don't know exactly how they make it, but I made...
Add to my recipe book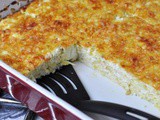 Zucchini Feta Frittata
By Recipe with pictures
04/27/11 01:06
I had a lot of feta cheese and I didn't know what to cook..... This is a super easy thing, just mix together ingredients and than bake for 1 hour. Ingredients: 3 eggs 1 tablespoon olive oil 2-3 zucchini (grated) pepper oregano 1/2 lb feta cheese 1 cup asiago...
Add to my recipe book