Very Good Recipes of White from Recipe with pictures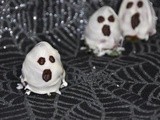 White Chocolate Strawberry Ghosts
By Recipe with pictures
10/27/11 20:24
Is this creepy or sweet? I don't know but they put a smile on my face. First of all they are easy to make, they are pretty healthy and super cute. No trick here, just treat :-) Happy Halloween everyone! Ingredients: 6 oz white chocolate chips 1 oz semisweet...
Add to my recipe book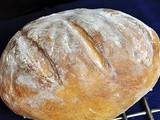 White Bread
By Recipe with pictures
04/17/11 22:47
Miss the smell of home made bread? If you love crunchy crispy crust bread try this recipe. Ingredients: 700 g all-purpose flour 350 g warm water 1 tablespoon vegetable oil 25 g yeast 1 teaspoon salt 1 teaspoon sugar Directions: Disolve sugar in 1/4 cup...
Add to my recipe book