Very Good Recipes of Italian from Restless Chipotle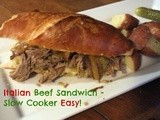 Slow Cooker Italian Beef Sandwiches
By Restless Chipotle
01/25/13 22:40
Everyone needs a fantastic recipe, that is super-simple, and is so delicious that everyone loves it. Slow Cooker Italian Beef Sandwiches meet Restless Chipotle readers. Restless Chipotle readers meet Slow Cooker Italian Beef Sandwiches. Two ingredients,...
Add to my recipe book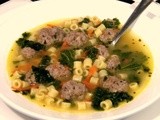 Italian Wedding Soup
By Restless Chipotle
02/09/12 20:18
Italian Wedding Soup has nothing to do with weddings. Sad, but true. You know I always pictured a chaotic, joyful wedding scene with people happily slurping up this particular soup. I figured there was some sort of symbolism in the … Continue reading →...
Add to my recipe book