Very Good Recipes of Cheese from Southern Shelle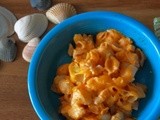 Buffalo Chicken Mac & Cheese
By Southern Shelle
10/07/13 13:38
Buffalo Mac & Cheese has become one our mid-week dinner staples for a couple of reasons: Ease. From start to finish it only takes 40 minutes, one pot and a 8x8 casserole dish. Frank's Buffalo Sauce. Frank's Buffalo Sauce is everything! Leftovers! This recipe...
Add to my recipe book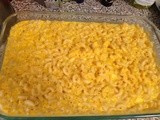 Macaroni and Cheese Cheat
By Southern Shelle
02/12/13 14:27
Homemade macaroni and cheese is almost sacred in our house. I've been trying for 4+ years to replicate my mother in law's recipe to no avail. The problem is that she lives 9+ hours away, and when I feel like macaroni and cheese I almost never want to go...
Add to my recipe book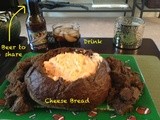 Guest Blogger Jaime's Cheese Bread
By Southern Shelle
10/08/12 16:12
A Sunday Football staple... What you need: 1 loaf pumpernickel or rye/marble bread 8 oz Port Wine or Sharp Cheddar Cheese 8 oz Cream Cheese 1/4 c beer* 1/8 tsp garlic powder *if you're Richelle or I, ask a significant other/friend to drink remainder of...
Add to my recipe book