Very Good Recipes of Quinoa from Spices and aroma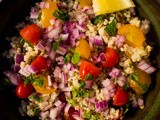 Quick and healthy quinoa salad with yogurt-mint dressing
By Spices and aroma
Subscribe
11/07/12 17:48
CONGRATULATIONS AMERICA! WE HAVE OBAMA FOR THE NEXT FOUR YEARS. Yay! What an nerve racking election it was? Woooof! I was part of election debate everywhere - work, home and facebook. I loved hearing everyone's thought and it made me more knowledgeable...
Add to my recipe book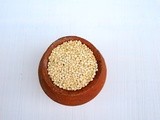 Quinoa and its benefits : Warm quinoa salad with Indian spices
By Spices and aroma
Subscribe
04/06/12 06:26
I have spoken in brief about quinoa on my post about gestational diabetes. After I wrote about brown rice, I wanted to explore in detail about quinoa. So here I am writing about a magical grain - QUINOA (pronounced as Keen-wa). Most kitchens known to me...
Add to my recipe book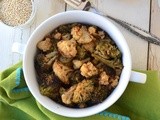 Roasted cauliflower and broccoli with quinoa spice powder
By Spices and aroma
Subscribe
03/21/12 20:02
A few months ago, I set out to make few changes in my lifestyle. One beautiful morning of April last year, I started with a new regime. I had couple of good reasons to point out to my friends and family if they bombard me with questions. There are quite...
Add to my recipe book