Very Good Recipes of Biryani from Taste Of Pearl City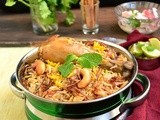 Thalassery Chicken Biryani
By Taste Of Pearl City
02/09/12 06:54
Although Biryani is said to be originated from Iran to India through merchants and travellers, in India it has many different versions. It took it's own version according to the local region. Each one has it's unique flavour. Thalassery Biryani is a popular...
Add to my recipe book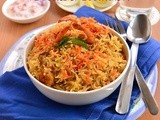 Shrimp/ Prawn Biryani
By Taste Of Pearl City
01/04/12 19:04
When it comes to biryani, it's always the most welcome in our family among any food. Also when it comes to any special occasion , Biryani is something which comes first. When you have Briyani in your meals, it's definitely considered as a Royal feast. To...
Add to my recipe book