Very Good Recipes of Pesto from The Adirondack Chick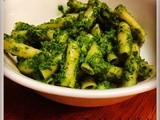 Vegan Almond Spinach Pesto
By The Adirondack Chick
04/07/14 15:53
Have I told you how in love I am with my new food processor? Well, let me clarify, it isn't really new. It's my first one. Yes, I know. How does a lifestyle writer who mostly concentrates on developing new recipes live without one? Since I've gotten it,...
Add to my recipe book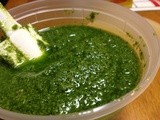 Kale and Basil Pesto
By The Adirondack Chick
04/23/12 05:28
It was only last year that I made homemade pesto for the first time using the basil I grew in my garden. Can you believe it?! An Italian who never made pesto until she was in her thirties?! ;-) As I researched pesto more, I found that you can really use...
Add to my recipe book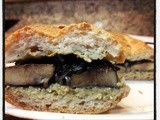 Grilled Portobello Sandwich With Creamy Pesto Sauce
By The Adirondack Chick
03/11/12 15:48
Despite me making pesto sauce from the basil I grow in my garden, my Dad only became open to eating it recently because he had a creamy version of it on a sandwich at the Adirondack Pub and Brewery. So he decided he wanted to make his own. I helped, and...
Add to my recipe book