Very Good Recipes of Red Pepper from The Adirondack Chick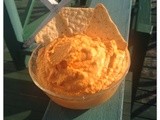 Roasted Red Pepper Hummus
By The Adirondack Chick
10/20/13 15:43
For some reason, hummus used to intimidate me. Maybe it was the tahini, or the chick peas, but I thought it was so difficult to make, and was afraid to try it. It's really not that hard, and you can create all sorts of delicious vegan, gluten-free varieties....
Add to my recipe book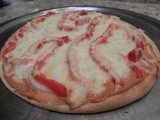 Creamy Ricotta, Red Pepper & Onion Pizza
By The Adirondack Chick
03/29/12 06:05
If you're not sick of risotto recipes, I'm sure you have to be sick of pizza recipes by now. ;-) Like the risotto, pizzas are so easy to make and are perfect for using up what you have in your fridge. I usually keep a package of Udi's Gluten Free Pizza...
Add to my recipe book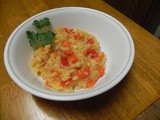 Red Pepper Risotto
By The Adirondack Chick
02/06/12 15:07
I'm so in love with risotto, which is kind of ironic since until just over a year ago I had never made before. For some reason it wasn't a staple, or even mentioned, in my family growing up. It's so versatile! You can make fun vegetable combinations that...
Add to my recipe book