Very Good Recipes of Roast from The Hedonista - Recipes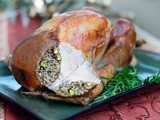 Roast Turkey with Freekeh
By The Hedonista - Recipes
Subscribe
12/10/12 07:21
Ok - this is not the easiest part of a Christmas Dinner, and so breaks my usual slap-dash rules of only 3-4 steps. Sorry about that - nothing to do. It is however not a hard recipe as far as roast turkeys go - just a simple roast, no brining or anything...
Add to my recipe book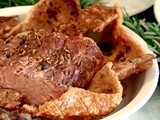 Roast Pork with Italian Inspiration
By The Hedonista - Recipes
Subscribe
12/19/11 23:19
I first tasted "porchetta" at a deli I worked in when I was 15. It was sold cold, and allthough I loved my mum's pork, it just surpassed everything she did (except of course for the crackling, because that's only a hot food thing). That was just the processed...
Add to my recipe book