Very Good Recipes of Onion from wabi
There are 3 Onion recipes on the blog wabi. (622 on all the blogs)
Click on the title of a recipe or the photo of a dish to read the full recipe on its author's blog.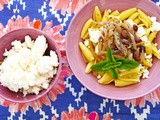 Caramelized onion and white cheese pasta - Ζυμαρικά με ξυνομυζήθρα και καραμελωμένα κρεμμύδια
By wabi
06/20/12 14:44
Υπάρχουν κάτι μέρες που βαριέμαι να κάνω οτιδήποτε , πόσο μάλιστα να μαγειρέψω όταν ετσι και αλλιώς έχω σε καθημερινή βάση το μαγείρεμα του μικρου. αλλά και πάλι δεν θέλω να αφεθω στην εύκολη λύση του έξω ιδιατερα όταν με πιάνει αυτό που θέλω να φάω κάτι...
Add to my recipe book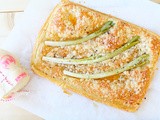 Spring onion tart - Τάρτα με φρέσκα κρεμμυδάκια
By wabi
04/20/12 18:42
Quick delicioussnack adapted from Sweet Paul magazine. I used provolone cheese with parmesan as well. Πεντανόστιμο καιγρήγορο σνακ που βρήκα στο Sweet Paul magazine . Χρησιμοποίησα σφολιάτα την οποία έκοψα σε τετράγωνα,άπλωσα επάνω τριμμένο προβολόνε και...
Add to my recipe book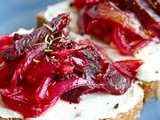 Brochettes with beet root, caramelized onions and goat's cheese
By wabi
01/21/12 13:58
450 gr red onions thin sliced 1tbspoon olive oil 1 tbspoon caster sugar 1 tbspoon red wine vinegar 450 gr cooked beet root diced Soft goat's cheese Cook the onions in olive oil in a large saucepan, covered for about 15 minutes until they are very tender,...
Add to my recipe book