Very Good Recipes of Pie from wabi
There are 2 Pie recipes on the blog wabi. (1069 on all the blogs)
Click on the title of a recipe or the photo of a dish to read the full recipe on its author's blog.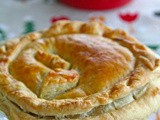 Πίτα με μοσχάρι και μπύρα - Pie with beef cooked in beer
By wabi
12/07/11 22:17
Εδώ και 1,5 μήνα ταλαιπωρούμαιμε πόνους στον αυχένα και στην ωμοπλάτη. Πήγα σε 3 διαφορετικούς γιατρούς όπου όλοιμου έλεγαν ότι είναι από την κούραση αλλά η αιτια ξεκιναει από πιο παλιά. Από τότεπου ήμουν φοιτήτρια και είχα πάθει ένα ατύχημα με το αυτοκίνητο....
Add to my recipe book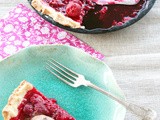 Raspberry pie - Τάρτα με σμέουρα
By wabi
09/20/11 19:45
Η ζωή μας συνεχίζει να τρέχει σε γοργούς ρυθμούς μεταξύ αϋπνίαςκαι κούρασης όμως η διάθεση παραμένει ανεβασμένη. Αυτό συζητούσαμε με τονΓουινη υπό άλλες συνθήκες τα ξενύχτια θα μας είχαν ισοπεδώσει τώρα όμως υπάρχειτόση αδρεναλίνη που είσαι διαρκώς σε μια...
Add to my recipe book