Very Good Recipes of Squash from We Like To Cook!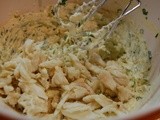 Cannelloni-Style Baked Squash Blossoms
By We Like To Cook!
07/03/13 16:55
In the event that you are tired of hearing us wax obsessed about squash blossoms, too bad! We have another squash blossom extravagance to share. While we usually stuff, batter and fry the delicate flowers, we wanted to try a lighter recipe that was less...
Add to my recipe book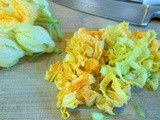 Mexican Squash Blossom Sopa
By We Like To Cook!
05/25/12 08:18
With the unseasonably warm Spring weather, we currently find ourselves with a surplus of squash blossoms. They are absolutely luscious, particularly when lightly cooked. Because their season is usually so short, we hate to miss the chance to eat every last...
Add to my recipe book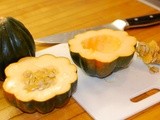 Acorn Squash Stuffed with Moroccan Candy Cap Filling
By We Like To Cook!
11/12/11 18:25
I have lived on the East Coast my entire life with few regrets until I tried the Candy Cap mushrooms I received from Marx Foods. My introduction started at my mailbox. When I opened it, I was bombarded by the heady aroma of … butterscotch? With startled...
Add to my recipe book