Christmas Menu Recipe Challenge
Merry Christmas!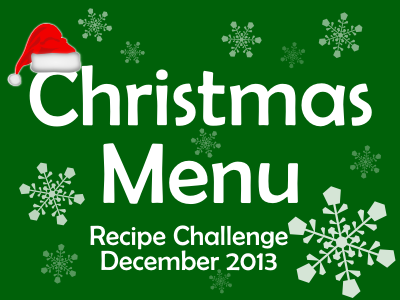 Please invite all your friends to the Christmas Menu challence! :-)
Welcome to the 8th recipe challenge organized on Very Good Recipes!
We invite you to imagine and publish a recipe on a given theme selected by a group of food bloggers who have kindly accepted to be the judges for this month challenge. The judges select the theme and select the winners. They also publish their own recipe for the challenge as an example, but of course they cannot win this time.
The Judges
This month the judges are:
Theme: a Christmas Menu
For Christmas, the judges invite you to participate in a triple challenge: proposing a Christmas appetizer recipe, a Christmas entree (main dish) recipe, and/or a Christmas dessert recipe. You can participate with only one recipe or two, or propose 3 recipe for the complete menu, your choice.
Participating
The challenge is open to everyone, whether you have a food blog or not.
In order to participate, you need to enter one or more Christmas recipes for an appetizer, and entree (main dish) and/or a dessert.
If you have a food blog registered on Very Good Recipes, you just need to publish your recipe on your blog with a link to the challenge page https://verygoodrecipes.com/christmas-menu-challenge in the text of your recipe.
Please also add a link to the recipe category so that we can find participating recipes easily: It will then be automatically listed on this page. (if you don't see it after 30 minutes, please e-mail me)
If you have a food blog (or a blog with a recipe category or label) but are not yet registered on Very Good Recipes, you can register in 30 seconds.
If you do not have a blog, you can participate by sending me your recipe with one or more pictures. I will publish your recipe on Very Good Recipe's blog so that it can be displayed on the challenge page.
Rules:
There must be at least one picture in your recipe, and both the recipe and picture need to be your own. If your recipe is inspired by another, please mention it in your recipe.
You cannot use an already published recipe to participate in the challenge, you need to publish a new recipe (otherwise there's no challenge!)
We would love to have participations from all around the world, including from blogs in languages other than English. Please do include an English translation of your recipe in your post though. :-) If you need help with the translation (proofreading etc.), we will be glad to help if we can.
You can participate with up to one recipe for each category: Christmas appetizers, entrees (main dishes) and desserts.
You can participate from December 5th 2013 until January 5th 2014 included.
Prizes
The judges will select a grand winner amongst participants who will submit 3 recipes (1 appetizer, 1 entree (main dish) and 1 dessert), plus 3 winners (1 for each category).
Grand Winner
I will offer cookbooks of her or his choice to the grand winner (up to $60 value). Shipped to your place wherever you are!
3 winners (1 for appetizers, 1 for entrees (main dishes), 1 for desserts)
I will offer one ore more cookbooks of their choice to each of the 3 winners (up to $30 value). Shipped to your place wherever you are!
Laurels and badge
All the participants will receive a badge with laurels that will be displayed on Very Good Recipes (on their page and in the huge list of food blogs). You can also display it on your blog or your challenge recipe if you want to.

Winners will get gold, silver and bronze laurels.
Have fun!
Thanks a lot to the judges to make this challenge possible!
I hope you will enjoy the challenge and that many of you will participate! Have fun!
Results
The judges have selected the winning recipes:
Full Menu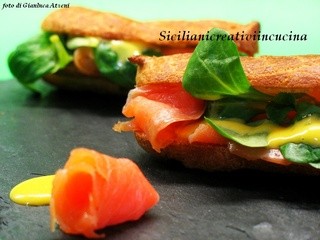 Eclairs al salmone con maionese all'arancia
By Siciliani creativi in cucina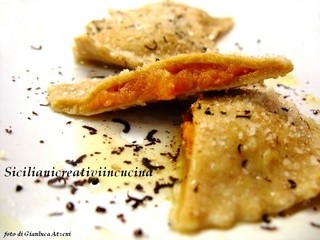 Tortelli di zucca con farina integrale
By Siciliani creativi in cucina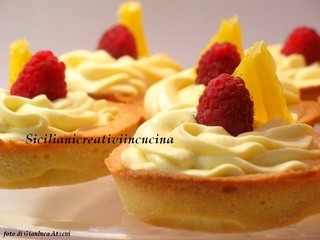 Tartellette di frolla con chantilly all'arancia e lamponi
By Siciliani creativi in cucina
Appetizer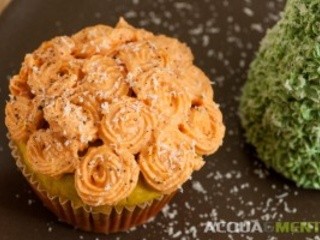 Il nostro cake design (salato)
By acquaementa
Main dish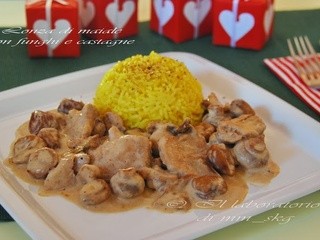 lonza di maiale alla panna, con funghi e castagne
By Il laboratorio di mm_skg
Dessert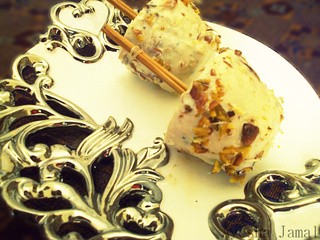 Kulfi: Frozen Milky Cardamom Dessert
By Miss Spicy Hat n' Sugar Socks
Congratulations to all the winners and thanks a lot to all the participants and the judges!
Click on the title of a recipe or the photo of a dish to read the full recipe on its author's blog.
Christmas is just round the corner, you feel it in the air. We've been waiting a year. And it's finally here. Today I'm sharing with you something tropical and exotic to wow your lover, hubby or MIL for this coming Christmas dinner. Yours truly busy cooking...




How to wow your lover, hubby or MIL - Christmas Menu Hang on, it's still early........wow your lover or husband with..... Dessert of the day Coconut jelly with coconut meat Refreshing and silky smooth coconut jelly, serve with coconut meat and banana for...

Here is Kollywood's Christmas entree for the Christmas Menu Challenge: Gigot Bergére What to buy ? For lamb : One full leg of lamb (gigiot) - 1 carrot 2 sticks of celery - 200 gm of mushroom - 2 cube Beef extract - 200 ml white wine - Puff pastry - oil...

Here is Rebecca's Christmas Dessert entry for the Christmas Menu Challenge: I've been making these meringues for years now and they have become a staple on my holiday baking list. They are super easy, very festive, easy to store, and always bring rave reviews....

Happy New Year 2014 to all my fans. It's my late Christmas post, been too busy with a lot of Christmas and New Year Bake. Now there is sometime for me to share with the rest of this. This is my exclusive recipe that designed for Zespri Malaysia, with their...

Hello bloggy friends…..Hope everyone is fantastic and doing well. Taking a little extra care during winters,and not getting ill(Like I did). At the beginning of 2014, I decided that I am going to try out some of my mum's recipes. She's a fantastic cook....

Il proposito era quello di utilizzare lo zafferano al di là del risotto alla milanese. Ho provato con questo dolce. Dove ho nascosto lo zafferano? Nella base della mousse, nella crema inglese e nei biscotti che accompagnano. Piacerà agli amici inglesi di...

Ψαρονεφρι αλα κρεμ με μανιταρια και καστανα γευστικότατο γιορτινό πιάτο, με πολύ ωραία εμφανιση. εχει και το πλεονέκτημα οτι παρασκευάζεται εύκολα και γρήγορα. τα πορτσίνι κάνουν την διαφορά στην γεύση! το συνόδεψα με ενα απλό πιλαφάκι ρυζιού, νοστιμισμένο...

I've been quite busy these days with winter holidays(It sounds a bit ironic actually). We are enjoying these days so much at my house. Everyday is a festive day with chatter,chai, sweet treats and savory as well. My mother has been cooking a lot too. And...

Erano anni che volevo provare a colorare la pasta all'uovo, poi il tempo non è mai abbastanza per fare tutto. Quando ho pensato a un primo piatto natalizio, mi è venuto in mente di ritagliare ravioli a forma di alberello,Continue Reading The post Pasta...

Η βασιλοπιτα τησ γιαγιασ ανδρομαχησ η βασιλόπιτα της γιαγιάς ανδρομάχης ήταν φυσικά η απαραίτητη παρουσία στο τραπέζι της πρωτοχρονιάς. φτιαγμένη μέσα σε ενα μεγάλο στρόγγυλο ταψί, καταλάμβανε, φουσκωτή και εντυπωσιακή το γιορτινό τραπέζι. μόλις γύριζε...

Well, here we go folks. Many of the wintertime holidays have gone and past, and in many parts of the world, 2014 has already made its mark. Before New Year's eve comes to an end in Michigan, I wanted to share with you for this final post of 2013 an experimental...

Well, here we go folks. Many of the wintertime holidays have gone and past, and in many parts of the world, 2014 has already made its mark. Before New Year's eve comes to an end in Michigan, I wanted to share with you for this final post of 2013 an experimental...

Nei giorni scorsi abbiamo assistito, o partecipato in prima persona, a diversi eventi di cake design o tecniche di decorazione dei dolci. Questo non ci ha lasciato indifferenti e, spinti da sana curiosità ma anche consapevoli dei nostri limiti, ancheContinue...

Γαστρονομικο πανετονε σίγουρα λιγότερο γνωστό απο το παραδοσιακό γλυκό πανετόνε, εδώ στην ελλάδα, το γαστρονομικό πανετόνε είναι μια αλμυρή εκδοχή που εντυπωσιάζει με την παρουσία του στους μπουφέδες και τα γιορτινά τραπέζια κατά την διάρκεια των χριστουγέννων...

Last year I made Christmas Log Cake . This year I want to make something different for Very Good Recipes challenge . As we know log cake is made with sponge cake, frosted, rolled to form a cylinder, and frosted again on the outside. Mine is frosted on the...

Hello and Happy Holidays to all you good people! Once again I must apologize for my absence, in a future post I will explain. Right now I'd like to announce that I've volunteered to Judge yet another cooking challenge from VeryGoodRecipes.com. This challenge...

For those of you who are starting to crave for something less rich and sweet already, as I have to sadly admit I am a little (albeit I'm leaving some room for tomorrow), here is a recipe which is has a delightful sharpness and crunchy topping. I've never...

3 simple ingredients can make into delicious Homemade Kiwifruit Lollipop. It is always headache to think of party food that you can prepare way upfront. With the simplest ingredients on hand, I've invented this recipe - Homemade Kiwifruit Lollipop. This...

This year Santa visited me early, yes she does that he visits good ladies, early she arrived on December 2nd. Yes Vaishali visited Goa and she came bearing gifts, sorry loaded with gifts!! She carried wadhwani chillies and one more kind, I forget the name...