Thanksgiving your way! Recipe Challenge
Celebrate Thanksgiving your way!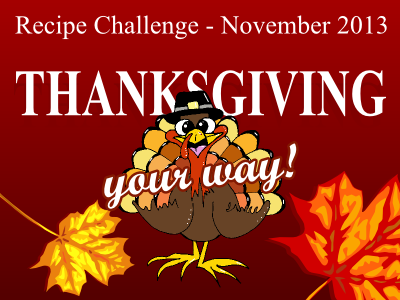 A big thank you to Kris of
Au pays des piments
for drawing our pilgrim turkey!

Thanks for Sharing the Thanksgiving challenge!
Welcome to the 7th recipe challenge organized on Very Good Recipes!
It has been a very long time since the last recipe challenge on Very Good Recipes, I hope you did not miss them too much and that you will enjoy this one!
There is also a Thanksgiving challenge on the French version of Very Good Recipes, Recettes de Cuisine. We thought it would be a great idea to bring it to Very Good Recipes as well, so here it is!
We will also organize a new Very Good Recipes challenge next month (December), if you would like to be one of the judges, please add me on Facebook and send me a message there so that I can add you to the judges group.
The theme for this challenge has been selected by 12 food bloggers who have kindly accepted to be the judges for the challenge. Each judge is also presenting his or her own recipe of the theme they selected. The judges will select the winners at the end of the challenge (and of course they cannot win).
The Judges
The judges for this month are food bloggers with blogs in French, next month we will hopefully have judges from all over the world :-)
Theme: Thanksgiving your way!
On the fourth Thursday of November (November 28th in 2013), Americans celebrate Thanksgiving: an opportunity to join family and friends for a great dinner and to think about all the great things that happened to us during the year. Traditionally the Thanksgiving dinner features dishes such as roasted turkey with cranberry sauce, gravy, mashed sweet potatoes, corn, pumpkin pie, pecan pie etc.
The judges for the challenge invite you to celebrate Thanksgiving, even if you do not live in America, in your own way! You could for instance take a traditional Thanksgiving recipe and substitute or add an ingredient from where you live or that you love to cook. Or you can do the reverse and take a traditional dish from where you live and give it an American touch. Let's mix cultures and traditions!
Of course you do not have to cook turkey to participate in this challenge, all the other ingredients, desserts and vegetarian recipes are also very welcomed!
Participating
The challenge is open to everyone, whether you have a food blog or not.
In order to participate, you need to enter a Thanksgiving recipe.
If you have a food blog registered on Very Good Recipes, you just need to publish your recipe on your blog with a link to the challenge page https://verygoodrecipes.com/thanksgiving-challenge in the text of your recipe. It will then be automatically listed on this page. (if you don't see it after 30 minutes, please e-mail me)
If you have a food blog (or a blog with a recipe category or label) but are not yet registered on Very Good Recipes, you can register in 30 seconds.
If you do not have a blog, you can participate by sending me your recipe with one or more pictures. I will publish your recipe on Very Good Recipe's blog so that it can be displayed on the challenge page.
Rules:
There must be at least one picture in your recipe, and both the recipe and picture need to be your own. If your recipe is inspired by another, please mention it in your recipe.
You cannot use an already published recipe to participate in the challenge, you need to publish a new recipe (otherwise there's no challenge!)
We would love to have participations from all around the world, including from blogs in languages other than English. Please do include an English translation of your recipe in your post though. :-) If you need help with the translation (proofreading etc.), we will be glad to help if we can.
You can participate with at most 3 recipes.
You can participate from November 14th 2013 until December 7th 2013 included.
Prizes
The judges will select the winning recipes.
1st place, 2nd place and 3rd place
I will offer one ore more cookbooks of their choice to each of the 3 winners (up to $30 value). Shipped to your place wherever you are!
I am looking for sponsors to offer prizes for the next challenges. If you have contacts of potential sponsors who could offer cool prizes (or if you would like to offer a prize yourself), Please let me know!
Laurels and badge
All the participants will receive a badge with laurels that will be displayed on Very Good Recipes (on their page and in the huge list of food blogs). You can also display it on your blog or your challenge recipe if you want to.

Winners will get gold, silver and bronze laurels.
Have fun!
Thanks a lot to the judges to make this challenge possible!
I hope you will enjoy the challenge and that many of you will participate! Have fun!
Results
The judges have selected the winning recipes:
1st place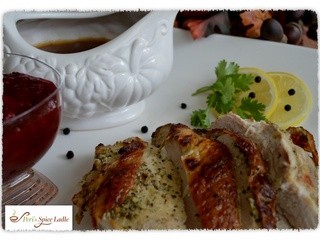 India's Unique Flavors for Thanksgiving Day…The Turkey & Sauces
By Peri's Spice Ladle
2nd place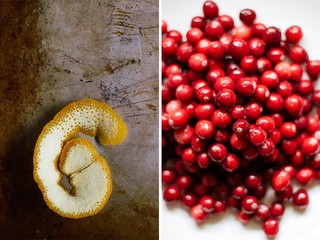 Mulled Wine Cranberry Sauce & Pumpkin Cornbread
By Wandercrush
3rd place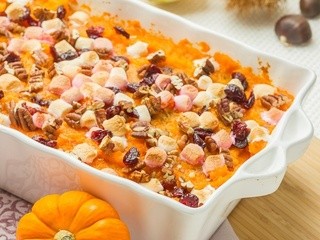 Sweet Potato Bake
By Cuisine Addict
Congratulations to all the winners and thanks a lot to all the participants and the judges!
Click on the title of a recipe or the photo of a dish to read the full recipe on its author's blog.
Hearty, healthy, wholesome…vegetarian, vegan, gluten-free; India's well-known tempered lentil preparation 'Daal Tadka' deserves all its accolades. This recipe for my slow-cooker version of homemade Daal Tadka was created for Zenfully Delicious (an amazing...




Unlike professional food websites run by large corporations, food blogs are a solo act, run on one person's passion for food. Always focused on bringing readers home-cooked realistic meals; bloggers don't have an assistant on hand to shop-n-chop, or professional...

Colorful, simple and healthful…is the best way to describe this Indian Pulao-style one-pot rice meal. Chock-full with the delicious goodness of fresh green herbs and aromatic spices, hearty whole-grain brown rice, protein-rich lean chicken and a rainbow...

The simplicity of complex flavors in Parsi fish curry 'Saas ni Macchi' feels like a symphony on the palate. Unlike most Indian and Parsi curries that depend heavily on spices; the Parsi white curry 'Saas' (in my knowledge, Saas is a linguistic diversion...

This simple quinoa side salad with zest and zing, is my welcome to warmer temperatures, and the possibilities of longer days with more sunlight. Hearty quinoa is cooked in a lemony spiced cooking liquid, hence infusing the whole grain with whole spices...

For the last post of my Indian-Breads Fest, following India's household bread Chapati-Roti, a homemade version of the popular Naan, and versatile fermented Dosa crepes, is north India's creation which has become a pan-India staple, stuffed Paratha. Many...

After the homemade version of India's much-loved 'Naan' bread, this week the Indian-Breads Fest takes on south Indian savory breakfast favorites, crepe-like 'Dosa' and its pancake version 'Uthappam'. Moving from delectable Indian bread dough to delightful...

After last week's warm and comforting Chapati-Roti, this week the Indian-bread Fest takes on a homemade version of India's much-loved 'Naan' bread… I vividly remember the first time I made Tandoori Naan, the feeling of singeing hair on my arm, as it went...

An Indian kitchen is always stocked with generous quantities of three grains, ready to go at a moment's notice: rice, lentils and ground whole wheat 'Atta' flour. Most homemade Indian bread is unleavened and flat, made with the above mentioned 'Atta', an...

For the past few days, I've been busy changing the look and feel of this site, to create a fresher and more intuitive experience for my readers. Peri's Spice Ladle started as a humble venture to create simple versions of much-loved classic Indian and Parsi...

This week's recipe will feel like a 'food hug', a warm slaw made with shredded cabbage and grated coconut; cooked down in an oil tempering of whole spices and fresh aromatics, all brought together with a hint of nutmeg and drizzle of tangy lime juice. Warm...

February is for the sweet-toothed among us; a month dedicated purely to desserts and chocolate and candy. (Although I do wish my elementary school aged son didn't receive Valentines candy from his young classmates with a message saying 'take a bite out...

A visit to Seattle and its world famous Pike Place market last weekend, got me thinking of spice-battered fish. As my eyes feasted on some of the freshest catch seen in the middle of winter, the foodie in me tried to savor as many Seattle food experiences...

Its the time of the year when most of us wants to start the year the right way, the healthy way. After all the gorging in the holiday season, its time to take it slow. Don't you think? What I have got today is exactly what you are gonna love. The healthy...

This recipe would make 6 mini pies : For the pies outer crust dough :Ingredients: All purpose flour : 1-1/4 cups Salt : 1/2tsp Butter : cold cut into cubes 1/2 cup Ice water : 1/8 cup (Can use a little more if required) Lime juice : 1/2 tsp Recipe: Take...

I know Thanksgiving is over and many of you have already made Pumpkin Pie and shifted the focus to making some great Christmas cookies and goodies for gifting. I know I have not been able to put anything on the blog for a long time as I was busy with loads...

Greetings, Foodies and Food Fans of the Blogosphere! Somehow the end of my first semester in graduate school has arrived and with it comes the rather hectic week of finals. That said, I need to take a quick break from all that to make a fun announcement...

Here is Teena's recipe for the Thanksgiving challenge: Carrot Cake with Cream Cheese Frosting Inspired by: Barefoot Contessa by Ina Garten INGREDIENTS 2 cups sugar 1 1/3 cups vegetable oil Ener-G egg replacer for 3 eggs (1-1/2 teaspoons Ener-G Egg Replacer...

This recipe would make 6 mini pies : For the pies outer crust dough :Ingredients: All purpose flour : 1-1/4 cups Salt : 1/2tsp Butter : cold cut into cubes 1/2 cup Ice water : 1/8 cup (Can use a little more if required) Lime juice : 1/2 tsp Recipe: Take...

A Thanksgiving confession: up until a few years ago, I'd only experienced tinned cranberry sauce—and loved it because I knew no other. Yes, the kind that plops gelatinously out onto your plate and retains the moulded ridges of the can … Continue reading...