Very Good Recipes of Ricotta from a cucina e mammà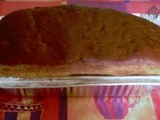 Millefoglie di babà con crema di ricotta e gocce di cioccolata per "Scelte di gusto"
By a cucina e mammà
Subscribe
04/15/13 00:09
L'ultimo atto del contest " Chef per un mese " di Tiziana del Blog Pecorella di marzapane consiste nel preparare una torta da dedicare al Giornale online di informazione e cultura enogastronomica " Scelte di Gusto " sponsor del contest. Ho pensato di preparare...
Add to my recipe book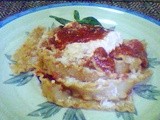 Manfredi con la ricotta
By a cucina e mammà
Subscribe
09/19/11 18:19
All'incirca nel 1250, Manfredi di Svevia, Re di Sicilia, era in guerra con il Papato per la supremazia nell'Italia meridionale. Arrivò con le sue trupppe nel Sannio, e la popolazione locale, per rendergli onore e magari anche per entrare nelle sue "grazie"...
Add to my recipe book