Very Good Recipes of Almond and Banana
There are 2 Almond and Banana recipes on Very Good Recipes.
Do you like almond and banana recipes?

See all almond recipes or all banana recipes.
Click on the title of a recipe or the photo of a dish to read the full recipe on its author's blog.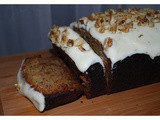 Banana and Almond Bread with Cardamom and Truffle Honey
By and gee said...
01/16/13 07:25
Banana bread was one of the first things I learned how to bake. We had a banana tree in our backyard, so they were always in supply. I remember that I was only allowed to bake banana bread at first, because I was the youngest, and real cakes would be too...
Add to my recipe book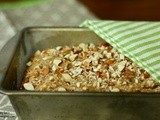 Wc Recipe Swap:Caramel Almond Oatmeal Banana Bread
By Lynsey Lou's
10/05/12 14:00
For this installment of the What's Cooking recipe swap we were asked to submit a breakfast dish for a fellow blogger to make. I was assigned Jey's blog and she submitted a recipe for banana bread, but now just any banana bread, Caramel almond oatmeal banana...
Add to my recipe book