Very Good Recipes of Flour from Authentic Vegetarian Recipes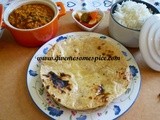 Corn and wheat flour chapatis (Indian bread)
By Authentic Vegetarian Recipes
03/26/13 22:01
Chapatis or chappattis are usually made from wheat flour and eaten with most Indian curries. Different Regions of India have their own unique style of making chapatis. In Kenya, the locals make them big and quite thick and often fry them but call them roti....
Add to my recipe book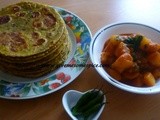 Theplas with fenugreek, wheat, chickpea and millet flours with an addition of instant oatmeal cereal
By Authentic Vegetarian Recipes
06/05/12 18:43
My recipe for making traditional Gujarati theplas is here . I grew up eating theplas so I always took them to be a staple food for all Indians. It's only after my several visits to India did I realise that theplas are a typical Gujarati dish. When a friend...
Add to my recipe book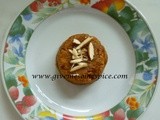 Magaj for Diabetics (a Chick pea flour Indian sweet suitable for diabetics)
By Authentic Vegetarian Recipes
05/07/12 02:27
Magaj is a popular Gujarati sweet usually made during the Diwali celebrations. I have been thinking about making some sweets which could be sitable for diabetics but have refrained from trying them out as a lot of Indian sweets require you to make a sugar...
Add to my recipe book