Very Good Recipes of Yogurt from Authentic Vegetarian Recipes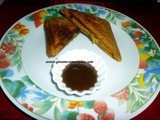 Sandwiches and home made yogurt using chilli stems
By Authentic Vegetarian Recipes
04/09/13 22:44
I had a busy day with meetings during the day and networking with a Community group this evening. Both the events had various finger foods so I did not want a huge meal when I got home. Tonight I made some spicy sandwiches using a sandwich maker. I used...
Add to my recipe book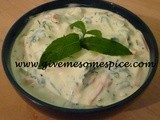 Raita: Spicy Yogurt Dip with carrots and fresh mint
By Authentic Vegetarian Recipes
10/16/12 04:00
Last Saturday Mr J cooked dinner accompanied by a delicious banana raita. So I wanted to make something equally nice but slightly different as an accompaniment for our Sunday dinner. I made the raita using nearly every herb in my fridge and when we tasted...
Add to my recipe book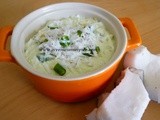 Coconut, chillies and Yogurt chutney/dip
By Authentic Vegetarian Recipes
05/30/12 21:10
Over the last few months, you will have seen my recipes for green chutney/dip and tomato chutney. Both these chutneys are perfect to serve with potato bhajias, onion bhajias, pokoras etc. This yoghurt, chilli and coconut chutney/dip is also perfect for...
Add to my recipe book