Very Good Recipes of Fenugreek from Authentic Vegetarian Recipes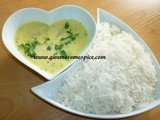 Gujarati Kadhi with fenugreek
By Authentic Vegetarian Recipes
04/01/13 08:00
Kadhi is a warm sweet and sour soup made with yoghurt and chick pea flour (besan). There are several variations of kadhi recipes where you can add vegetables like okra, daikon (mooli), fenugreek, pakoras etc to make the kadhi richer. Some like to have their...
Add to my recipe book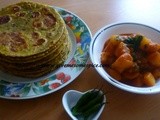 Theplas with fenugreek, wheat, chickpea and millet flours with an addition of instant oatmeal cereal
By Authentic Vegetarian Recipes
06/05/12 18:43
My recipe for making traditional Gujarati theplas is here . I grew up eating theplas so I always took them to be a staple food for all Indians. It's only after my several visits to India did I realise that theplas are a typical Gujarati dish. When a friend...
Add to my recipe book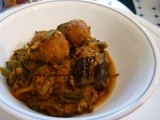 Valor, methi (fenugreek) & aubergines with muthias (dumplings) curry
By Authentic Vegetarian Recipes
05/28/12 00:06
Every family has some favourite dishes they make regularly with some variations. This is one dish I make at least once a month but with variation of vegetables depending on what is available seasonally. A recipe for a similar dish with potatoes and without...
Add to my recipe book