Very Good Recipes of Mango from Authentic Vegetarian Recipes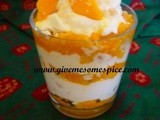 Mango and Ginger Cheesecake
By Authentic Vegetarian Recipes
05/06/13 10:57
The inspiration of this recipe is from a dessert called Eton's mess which a friend of mine had made and my son loved it. I was looking to make something similar but eggless eggless. Now that the Indian mangoes are in season - I made this layered dessert...
Add to my recipe book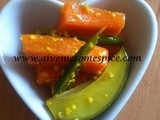 Carrots, raw mango and green chillies pickle with mustard (raita gajar, marcha & keri)
By Authentic Vegetarian Recipes
04/13/12 13:57
A lot of you have been emailing me to ask why I haven't posted any recipes recently. I have been spending a lot of my time chasing bloggers and websites owners who have been using my photographs without my permission and passing them off as theirs. One...
Add to my recipe book