Very Good Recipes of Vegetarian from Authentic Vegetarian Recipes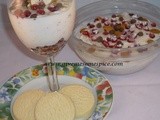 Authentic Vegetarian Recipes | Indian Traditional Food | Step-by-step Instructions
By Authentic Vegetarian Recipes
06/18/12 00:05
Today was Father's Day and I wanted to make a sweet that everyone in the family would enjoy but at the same time could be made very quickly. I learnt to make this quick and easy cheat recipe for shrikand years ago from an aunt. I was young and newly married...
Add to my recipe book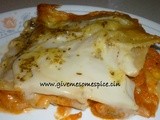 Rich and creamy vegetarian lasagna
By Authentic Vegetarian Recipes
02/28/12 19:28
Lasagna is a dish I make regularly as it's a nice change from curry and rice. I usually make two small dishes of lasagna - one with vegetables and one with a mixture of Quorn mince and vegetables. My children love lasagna made with Quorn Ingredients for...
Add to my recipe book