Very Good Recipes of Kiwis from Crunchy Creamy Sweet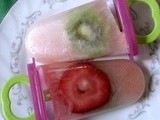 Limeade Ice Pops with Strawberry and Kiwi
By Crunchy Creamy Sweet
06/19/12 21:08
Have you ever tried to reason with a 3-year-old? It's amazing how fast they can trick you into something. "I am three years old so I want three crayons!". That is my youngest daughter's recent argument for everything. Everything has to be in threes. Three...
Add to my recipe book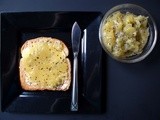 Kiwi Jam ( Fridge Style )
By Crunchy Creamy Sweet
03/16/12 19:14
My dear Readers, You may think I fell of the face of the Earth, disappeared or buried myself in frosting so much that I can't reach my computer. :) The truth is, we have our family staying with us for a month and my camera is filled with pictures of our...
Add to my recipe book