Very Good Recipes of Cookie from Culinarily Courtney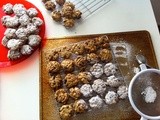 White Chocolate Chip & Cranberry Oatmeal Cookies
By Culinarily Courtney
08/26/12 06:19
These are dainty cookies. These are cookies you eat while wearing lace gloves at a tea party in a quaint English garden. In just a few polite bites, you can eat one (or two or three) of these cookies without looking like a glutton. You can look like a proper,...
Add to my recipe book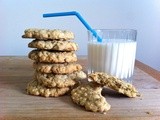 Sweet and Salty Oatmeal Cookies
By Culinarily Courtney
04/13/12 01:39
One of my earliest childhood memories: The scent of cookies baking pulled me from the warm sheets of my toddler bed to the kitchen. A kiddie table figured at the center of the linoleum floor. A thick patchwork quilt of green and white cotton dotted with...
Add to my recipe book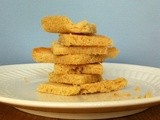 So-Easy Sugar Cookies
By Culinarily Courtney
11/20/11 02:42
I am the notorious stressed-out girl. Sometimes I wish I could just take a deep breath and relax. I'm starting to learn how to do that, and these cookies sure help. It's that time of the quarter where midterms have just finished and finals aren't for three...
Add to my recipe book