Very Good Recipes of Wheat from Culinarily Courtney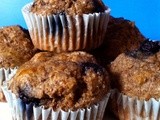 Whole Wheat Blueberry Banana Muffins
By Culinarily Courtney
Subscribe
05/04/12 01:54
This quarter I am taking a class for fun, "Beginning Ballroom Dance." It's fun, but also funny. In fact, it's hilarious. I am awkward. I step on my partners' toes when I dance the Tango, my knees bump into theirs when I attempt the Samba, and don't get...
Add to my recipe book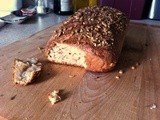 Whole Wheat Bread
By Culinarily Courtney
Subscribe
03/06/12 05:28
Certain Doom. The Apocalypse. Yeast and Rise. These are the words that first come to mind when I think about making bread from scratch. It's frightening. Actually, it's not that bad. I made my first loaf of REAL bread last week--and by real I mean something...
Add to my recipe book