Very Good Recipes of Soup from Culinarily Courtney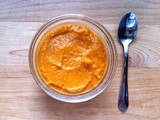 Cream-less Creamy Carrot Soup
By Culinarily Courtney
04/28/12 05:27
Sometimes, things are not as they appear. Through close observation and experimentation, we come to know the truth, and even learn how to fudge little lies ourselves. As a child, we rudely learn that yellow snow is not, in fact, lemon sorbet. At some point...
Add to my recipe book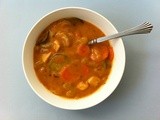 Cheesy Chicken Vegetable Soup
By Culinarily Courtney
11/10/11 16:00
Time for some honesty: I am a liar. But I vow that in this post you will find nothing but truth! I don't lie to other people, save for maybe the little white lie every now and then. Friend: "Would you like to come to such-and-such event tonight and hang...
Add to my recipe book