Very Good Recipes of Muffin from Culinarily Courtney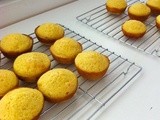 Sweet Cornbread Muffins
By Culinarily Courtney
07/06/12 00:54
Let's talk about names. These little cornbread muffins have sparked some thinking about the subject. When I was a wee child and people would ask me my name, I would timidly reply, "Courtney." Only, because of being soft-spoken, I would often get called,...
Add to my recipe book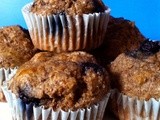 Whole Wheat Blueberry Banana Muffins
By Culinarily Courtney
05/04/12 01:54
This quarter I am taking a class for fun, "Beginning Ballroom Dance." It's fun, but also funny. In fact, it's hilarious. I am awkward. I step on my partners' toes when I dance the Tango, my knees bump into theirs when I attempt the Samba, and don't get...
Add to my recipe book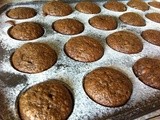 Double Chocolate Banana Mini Muffins
By Culinarily Courtney
11/03/11 23:40
I buy bananas. I buy them, and then I don't eat them fast enough. There is only so much banana bread one girl can eat though. I had 2 bananas sitting in my freezer for a month, and finally I got sick of opening the door and seeing their disgusting brown,...
Add to my recipe book