Very Good Recipes of Chicken from Culinary Chronicles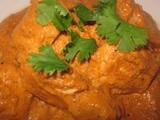 Chicken Tikka Masala and me
By Culinary Chronicles
08/06/12 02:18
Hello to all my loyal readers and to those of you who just dropped by, hope you all find yourselves well. In a post I wrote a while back, I sang the praises of an Indian restaurant I'd gone to with my kids called "a taste of India", which entailed an anecdote...
Add to my recipe book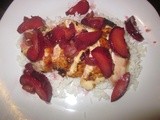 Sauteed Plums and Red Grapes over baked chicken
By Culinary Chronicles
04/30/12 02:02
Hello, hope your all doing well today. It's been raining here in Florida for a couple of days now on and off, I'm glad though, it's a break from the scorching hot sun. Not that's it's been terribly hot lately, but it's coming after all this is Florida....
Add to my recipe book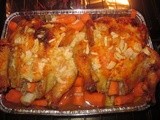 Baked chicken with carrots and onions for Easter Dinner
By Culinary Chronicles
04/09/12 02:21
Hello! Hope your all having a wonderful and blessed Easter Sunday. I have to say, I had a great time, my girls and I were invited to a friends house for egg hunting, Easter Dinner and some swimming. However as the day progressed we became so engulfed in...
Add to my recipe book