Very Good Recipes of Pork from Culinary Chronicles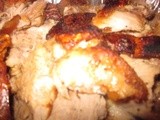 Happy thanksgiving! Pernil (roast pork)
By Culinary Chronicles
12/15/12 16:41
Hi everyone, hope your all doing well on this wonderful Thanksgiving morning. My apologies for posting this recipe "day of" Thanksgiving, but I've been really busy. For the first time ever, I can say I am now working in the "food" industry FINALLY! No,...
Add to my recipe book
Barbecue Pork Country Ribs a "labor" of love
By Culinary Chronicles
09/09/12 23:40
Hello and happy Labor Day to all! So much has happened since my last post: we had hurricane "Isaac" pass through Florida, I had a birthday at the beginning of the week and lastly Labor Day weekend is here. I have to say I've seen things I never imagined...
Add to my recipe book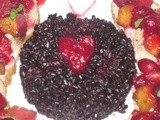 Be my Valentine challenge Forbidden rice, pork tenderloin w/apple-cranberry topping
By Culinary Chronicles
03/14/12 10:57
Hello! Hope your all doing well. It's February and once again I'm excited to announce I will be judging another challenge for verygoodrecipes.com, this time the theme is dedicated to Valentines day. We're calling it "Be My Valentine" and the dish should...
Add to my recipe book