Very Good Recipes of Pizza from It's In There....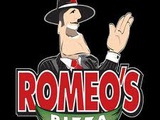 One of Cleveland's Great Pizza Places: Romeo's Pizza
By It's In There....
08/29/11 09:37
*Romeo's Pizza The other night my husband wanted pizza, big surprise right? He could eat pizza all the time. Not me, despite the fact I am 100% Italian. Great thing about Romeo's is that I could have something totally not Italian or Pizza related items....
Add to my recipe book
When Busy & In a Pinch: Pita Pizzas are a way to go
By It's In There....
08/06/11 04:29
If you haven't thought of it or have had them then your missing out. We all want to make homemade pizza, but honestly sometimes it entails a lot of work especially if you make your own dough, sauce and cut up all your toppings. When I was a kid, it seems...
Add to my recipe book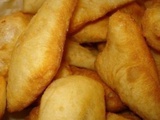 Panzarotti Pugliese (Italian Fried Pizzas)
By It's In There....
07/28/11 06:47
This recipe is a staple in our region of Italy. The Puglia region. My family lives in Bari and Mola Di Bari which is a southern coastal city off the Adriatic. Panzarotti later introduced to Northern Italy in the 1940's by Agostino Luini. Sometimes this...
Add to my recipe book