Very Good Recipes of Sandwiches from It's In There....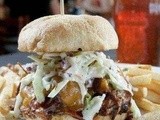 Slow Cooker Country Style Ribs and Pulled Pork Sandwiches in a Crockpot
By It's In There....
12/23/11 13:44
The pulled-pork sandwich at the Twisted Rooster is topped with slaw and cheese. (Credit: Heather Halligan) NOW THIS IS A PULLED PORK SANDWICH! Creamy yummy Slaw, Cheddar and BBQ slathered Pulled Pork! Don't forget a yummy crusty toasted bun! Hi everyone!...
Add to my recipe book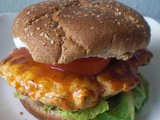 Perfect Buffalo Chicken Sandwiches
By It's In There....
08/07/11 14:06
Did you ever have a craving that seem to never end? This was one of them! It all started with trying Wendy's Buffalo Dipped Chicken Sandwich. I was hooked, I think I almost ate that sandwich for 2 weeks straight for lunch and it was killing my wallet! So...
Add to my recipe book