Very Good Recipes of Meal from My Culinary Adventures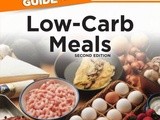 Low-Carb Meals:Cookbook review
By My Culinary Adventures
07/10/12 03:56
Lately, I have been receiving many emails offering review copies of cookbooks. I declined most of them since I felt that they would not be according to my family's taste and hence I would not be able to do justice to them. This particular book "The Complete...
Add to my recipe book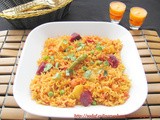 Spiced Vegetable Pulao - Quick one pot meal
By My Culinary Adventures
03/24/12 01:03
Dinner is usually an elaborate affair in my home but lunch usually comprises of something quick fix like parathas or a one pot rice/pasta meal . I had some pav bhaji masala languishing in my fridge, so I thought of using it to spice up this quick fix veggie...
Add to my recipe book