Very Good Recipes of Pork from Neil Cooks Grigson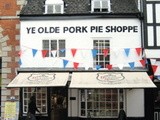 #312 Pork Pie
By Neil Cooks Grigson
Subscribe
10/26/11 02:39
"Provocative of indigestion as that pie may seem to you, it was put together by a lovely cousin at Melton Mowbray, whose fair hands are equally skilful in rendering a sonata of Beethoven, or in compounding the gastronomic mysteries of the kitchen." Excerpt...
Add to my recipe book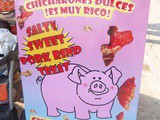 #290 Roast Pork with Crackling and Baked Apples
By Neil Cooks Grigson
Subscribe
05/07/11 05:36
Man's relationship with pigs goes back several thousand years. Acorn-eating wild boar were slowly tamed in European forests to become the slightly tamer proto-pig utilized by the Spanish, French and Greece. Swineherds had the unlucky job of attempting manage...
Add to my recipe book