Very Good Recipes of Beef from Nelly's Cupcakes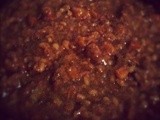 Sunday Lunch - Beef Porridge Fail
By Nelly's Cupcakes
Subscribe
02/26/12 09:00
I have recently become a little obsessed with the Hunger Games series of books, for those not in the know it is a tale of a couple of teenagers in a sort of alternate-reality/ post apocalyptic society. I am rubbish at summarizing things but I promise you...
Add to my recipe book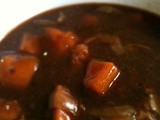 Sunday Lunch - Slow Cooked Beef Stew
By Nelly's Cupcakes
Subscribe
02/19/12 09:00
I don't want to jinx anything but I think I can see spring peeping its head up over the horizon! Anyone else see it? I wake up in the mornings and it is that little bit brighter, it is still light when I leave work in the evening. The air has that freshness...
Add to my recipe book