Very Good Recipes of Pork and Beer
There are 3 Pork and Beer recipes on Very Good Recipes.
Do you like pork and beer recipes?

See all pork recipes or all beer recipes.
Click on the title of a recipe or the photo of a dish to read the full recipe on its author's blog.
Slow Cooker Beer Pulled Pork-Stuffed Sweet Potatoes
By Prevention RD
05/10/13 11:19
This week has been absolutely, positively no good at work. The amount of stress I've been feeling has me feeling physical effects – my shoulders ache, my chest gets tight, and my appetite is in the tank (that's when I know things are really bad! ). Driving...
Add to my recipe book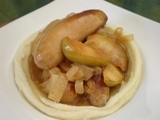 Beer Braised Pork Sausages with Apple and Onion
By The InTolerant Chef
03/17/13 01:22
Beer is not something I'm terribly familiar with A beverage based on barley and wheat is not my go-to drinky-poo, I usually enjoy a nice cold wine and soda on a hot day, or a GnT if I want something a bit more special. I had heard the odd rumour that there...
Add to my recipe book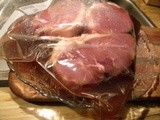 Root Beer Pork Chops in an rv
By Life in an RV
01/28/13 14:16
Austerity meal... I wish I could take credit for this recipe, but I can't. It's not my idea. It is, however, delicious!! These are Root Beer Pork Chops. Click on the name to see the original recipe...I'll tell you here what I did differently. First, you...
Add to my recipe book