Very Good Recipes of Ice cream from Rawfully Tempting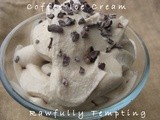 Creamy Coffee Bliss Ice Cream
By Rawfully Tempting
04/10/12 23:24
I'm still having fun with my adopted Champion Juicer. Frozen fruit ice cream is easy, but I wanted to use some of the amazing Medicine Flower extracts that I have, and see what creamy goodness I could come up with. You do have to plan for this in advance...
Add to my recipe book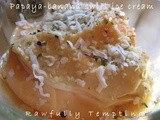 Papaya-Banana Swirl Ice Cream
By Rawfully Tempting
03/23/12 21:11
OHhhhhhhhhh HEAVENLY GOODNESS! I have to share my exuberance. A friend of mine blessed me with her old Champion Juicer. Just prior to giving it to me, it was accidentally dropped (and survived), but needed a few replacement parts that had cracked. I managed...
Add to my recipe book