Very Good Recipes of Sésame from Rawfully Tempting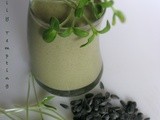 Sesame - Sunflower Simplicity Smoothie
By Rawfully Tempting
10/14/12 18:41
Who knew? Sunflower seed shoots are SO easy to sprout and taste FABULOUS in smoothies, giving them a sweet, nutty flavor! Try this healthy elixir to jump-start your morning. I have to add a post on sprouting these sweeties...but it truly is one of the easiest...
Add to my recipe book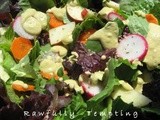 Creamy Orange Sesame Salad Dressing
By Rawfully Tempting
07/03/12 14:52
A creamy, but very light salad dressing with a cooling citrus base. It also makes a wonderful veggie dip. This was the very first salad I made with the lettuce we are growing at the community garden. I'm so loving the garden. We lost our cucumbers - not...
Add to my recipe book