Very Good Recipes of Sésame from Rawfully Tempting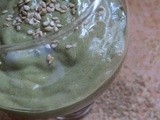 Fig Halvah (Sesame) Smoothie
By Rawfully Tempting
01/01/15 20:36
"Open sesame"—the famous phrase from the Arabian Nights—reflects the distinguishing feature of the sesame seed pod, which bursts open when it reaches maturity. Growing up, Halvah, (a ground sesame paste, fudge-like snack), was a huge treat in our household,...
Add to my recipe book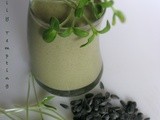 Sesame - Sunflower Simplicity Smoothie
By Rawfully Tempting
10/14/12 18:41
Who knew? Sunflower seed shoots are SO easy to sprout and taste FABULOUS in smoothies, giving them a sweet, nutty flavor! Try this healthy elixir to jump-start your morning. I have to add a post on sprouting these sweeties...but it truly is one of the easiest...
Add to my recipe book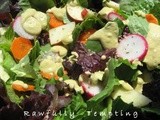 Creamy Orange Sesame Salad Dressing
By Rawfully Tempting
07/03/12 14:52
A creamy, but very light salad dressing with a cooling citrus base. It also makes a wonderful veggie dip. This was the very first salad I made with the lettuce we are growing at the community garden. I'm so loving the garden. We lost our cucumbers - not...
Add to my recipe book