Very Good Recipes of Oatmeal from So Very Domestic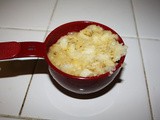 Vegan Chocolate Oatmeal Tart
By So Very Domestic
05/10/12 22:10
Today, I'm linking up with Kate Says Stuff's Thankful Thursday, The How To Mommy's Tasty Thursdays, Obviously Marvelous' Thirsty Thursdays and Saved By Love Creations' Thrifty Thursday. In the spirit of Thankful Thursdays, I am so very thankful to be here...
Add to my recipe book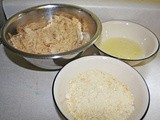 Oatmeal Almond Jammies
By So Very Domestic
03/20/12 02:00
I made these as part of a cookie platter for our aunt and uncle who came for a visit to the woods. I love when people drive all the way out here to hang out for lazy afternoons on the back porch. Though I don't know how lazy it really is when all three...
Add to my recipe book