Very Good Recipes of Blueberry from wabi
There are 2 Blueberry recipes on the blog wabi. (769 on all the blogs)
Click on the title of a recipe or the photo of a dish to read the full recipe on its author's blog.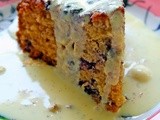 Old fashioned blueberry and cornmeal cake with Crème anglaise - Παλαιομοδίτικο κέικ μύρτιλλο με αλεύρι καλαμποκιού και κρέμ Ανγκλαίζ
By wabi
10/13/13 16:52
Σήμερα είχαμε κανονίσει έξοδο με γουίνη για φαγητό και το περίμενα πως και πως… όμως όταν έχεις παιδιά δεν μπορείς να κάνεις σχέδια ή τέλος πάντων να είσαι σίγουρος ότι θα πραγματοποιηθούν όλα όπως τα έχεις υπολογίσει και βρεθήκαμε σήμερα ξημερώνοντας με...
Add to my recipe book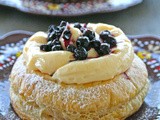 Blueberry and cream tartlettes - Τάρτες με κρέμα και μύρτιλλα
By wabi
12/15/11 19:16
Σήμερα στολίσαμε το δέντρο. Κάθε χρόνο το δέντρο στολίζεταιμε την συνοδεία μουσικής, τσαγιού και ενός σπέσιαλ γλυκού. Φέτος επέλεξα το παρακάτω και ήταν τόσο νόστιμοπου μπορεί να το φτιάξω και παραμονή Χριστουγέννων κάπως παραλλαγμένο βεβαία. Επειδήδεν...
Add to my recipe book