Very Good Recipes of Eggplant from A Seasonal Cook in Turkey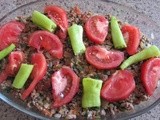 Patlıcan Oturtma: Aubergine/Eggplant Oturtma
By A Seasonal Cook in Turkey
07/04/13 10:09
Being told not to put your weight on your left foot does introduce certain constraints on one's daily activities especially cooking. I fully intend to get the hang of this hopping but it isn't as easy as you might think, and right now I am supposed to keep...
Add to my recipe book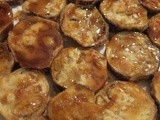 Eggplant Fritters with Honey
By A Seasonal Cook in Turkey
08/06/12 17:13
warm and crispy: eggplant slices in a light batter drizzled with pomegranate molasses Eggplant slices soaked in milk? Never heard of it. An extension of soaking in water to remove their natural bitterness? Maybe. But then 'the eggplant is a mysterious...
Add to my recipe book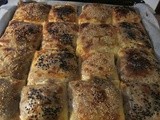 Patlıcanlı Böreği - Aubergine/Eggplant Borek
By A Seasonal Cook in Turkey
07/10/12 22:34
While we are on the subject of börek.... patlıcanlı böreğı or aubergine borek/pastries I was dying to try this one as I had a surfeit of eggplants in the fridge. Being a seasonal cook is all very well but it does mean you have to keep up with the fresh...
Add to my recipe book