Very Good Recipes of Pepper from A Seasonal Cook in Turkey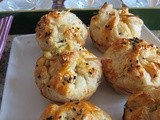 Muffin Borek/Muffin Böreği: Teatime Delights filled with cheese, tomato and peppers
By A Seasonal Cook in Turkey
03/19/14 16:21
When I saw the name of this recipe, I had to smile: just for me, I thought: a muffin disguised as a borek! This is a real Turkish recipe, I didn't make it up! muffin borek/muffin böreği However this borek is different: it's not made with the usual yufka/filo...
Add to my recipe book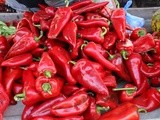 Stuffed Red Peppers: an Olive Oil-based Dish - Zeytinyağlı Kırmızı Biber Dolması
By A Seasonal Cook in Turkey
09/08/13 15:42
I expect you all know that life is too short to stuff a mushroom. Well, in all my time here in Turkey, I have stuffed more vegetables than I care to count but somehow never red peppers! What does that say about my life? mounds of red peppers at Ayvacık...
Add to my recipe book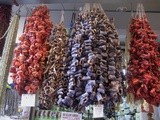 Sun-dried Red Pepper Meze: Bezirgeni from Antakya (Antioch)
By A Seasonal Cook in Turkey
05/30/13 21:54
When I am out and about on my Old City Walks in Eminönü, especially next to the Spice Market/Mısır Çarşısı, we pass by a multitude of small shops bursting with cheeses and olives, nuts and dried fruits. Overhead are hanging colourful strings of dried vegetables,...
Add to my recipe book